The After School Activities programme at Beacon provides opportunities for students from K to 8 to discover new interests, meet new friends, and acquire new skills beyond academics.
Click here to see a list of After School Activities offered in previous school years.
PreK Painting
PreK Bricks 4 Kidz
K-2 Lego Play
K-2 Film-making
K-2 Project: Dress-Up (for boys & girls)
K-2 Photography
K-2 Do-it-Yourself
K-2 Outdoor Adventures
K-2 Clay Creations
K-2 Storybook Artists
K-2 Origami
K-2 Fun games and Board games
2-8 Paper Maché Piggy Bank
K-2 Bricks 4 Kidz
K-2 Little Einsteins
K-2 Creative Chefs
K-2 Painting
K-2 Coders' Playspace
K-2 Balloon Art
K-2 C.A.M.P. (Children, Active, Movement, and Play)
K-2 Sign Language for Kids
K-2 Painting & Crafts
K-2 Kid's Yoga
K-2 Cartoon Creations
3-5 Film-making
3-5 Needle Works
3-5 Creative Chefs
3-5 Nutty Scientists
3-5 Coders' Playspace
3-5 Painting & Crafts
3-5 Art Therapy
3-8 Future Film Makers
3-8 Tatak Filipino!
3-8 Cartoon Creations
3-8 Robotics Class
3-8 Quick Costumes & Props
5-8 Board Geeks
6-8 Creative Chefs
Sports After School
The co – curricular sports programmes at Beacon aim to promote health and fitness, teamwork, fair competition, leadership, responsibility, self-discipline, safety, and enjoyment through recreation while giving opportunities for those who wish to, to excel in their chosen activity. To enhance the educational experience of students, The Beacon School offers a variety of developmentally appropriate sports programmes after school and participates in league play for some sports, in so far as it is compatible with our philosophy and resources.
Click here to see a list of Sports After School Activities offered in previous school years.
PreK Taekwondo
PreK Gymnastics
PreK T-ball/Baseball
PreK Gross Motor Skills
K-8 Gymnastics
K-8 T-Ball/Baseball
K-8 Futsal/Football
K-8 Taekwondo
K-2 Basketball
K-8 Chess
K-6 Wall Climbing
3-5 Boys' Basketball
3-8 Flag Football
3-8 Girls' Basketball
4-8 KALI (Filipino Martial Arts)
5-8 Archery
5-8 Volleyball
5-8 Badminton
6-8 Boys' Basketball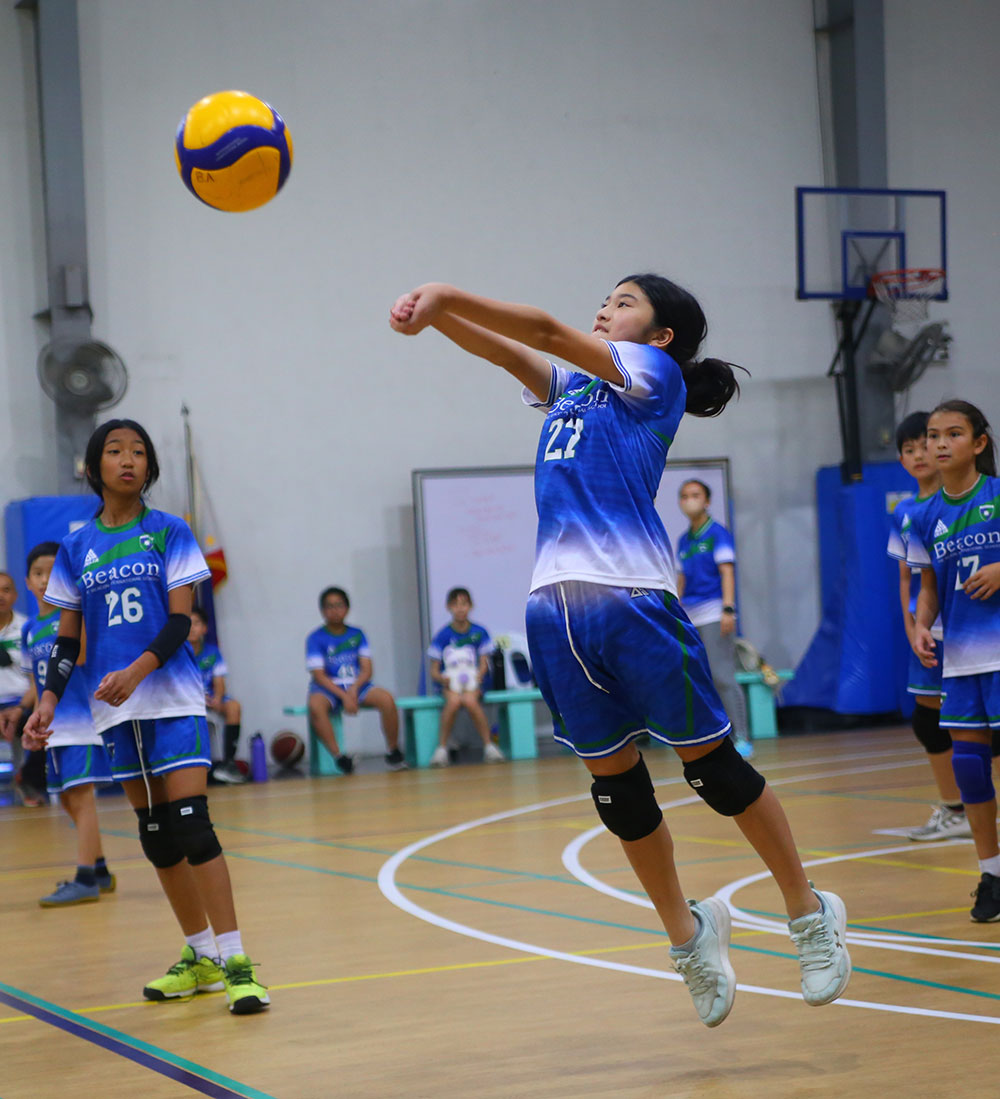 Music After School
The Music After School programme aims to foster a lifelong appreciation of music, and to develop the skill to perform as a solo performer or as part of an ensemble.
Individual lessons can be arranged through the school for violin, piano, voice, guitar and drums. Recitals are held, and students in the Music After School programme are often called on to perform at school wide assemblies and events.
Click here to see a list of Music After School Activities offered in previous school years.
Group Classes:
K-2 Chorale
K-2 JAM
3-5 Guitar Ensemble
3-5 Stick & Stomp
3-5 Glee
MYP Showstoppers
MYP Guitar Ensemble
MYP Stick & Stomp
String Ensemble
MS Band
Individual Music Lessons Available for:
Piano
Guitar
Violin
Flute
Drums
Voice