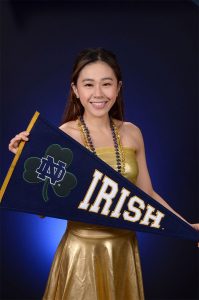 Hello, everyone! I am Emee Dy an alumnus who graduated from Beacon School in 2014. I studied Bachelor of Business Administration, majoring in Marketing with minors in Sociology and Asian Studies at the University of Notre Dame in South Bend, IN. 
I was in Beacon for over 10 years and made the greatest friends that I know I will treasure for a lifetime. In this picture, I am with Nikki Huang, my best friend since PYP.
I still keep in touch with my teachers from Beacon, as well as staff, and I know how much they care about us.. up to this day! Every time I visit, it feels like home. I came to visit the school when the time capsule was lifted last January 13 and met with my friends, like Clara Elizalde. It was nice to hold the shirts we buried in the capsule 12 years ago.
Beacon taught me to be independent, a risk taker, and an inquirer (yes, I still remember the IB principles we used to talk about!). I went to boarding school in Singapore, and later on, went to college in the US. These skills that Beacon equipped me with became more crucial than ever.
I skated for the Philippine National Team for over 10 years, so it made sense for me to join the ND Figure Skating Club. I was also a Research Assistant and a Resident Assistant in my dorm during my senior year.
I know that planning for your future and figuring out who you want to be or what you want to study for college may seem stressful. My advice is to never underestimate what you're capable of!!! Be your own biggest cheerleader. There were times (and there continue to be times) when I doubt myself, and that has robbed me of many opportunities. Trust that you can do it 🙂
Living on my own is something that I also had to face when I studied abroad. The transition, in the beginning, is tough. Being alone for the first time (no yaya!), doing your own laundry, cooking your own food. As silly as it sounds, it may even be more difficult than the classes you're trying to study for. Be patient, and the next thing you know, you have mastered it all. I remember when I first used a dryer… everything shrank to a size 0!!!
It will eventually pay off, I promise. I now work in Sales & Trading at Citi in New York. My hours are really long (I start at 6), but I always make it a point to work out. It's an activity that I really enjoy, and where I can de-stress.
I am still in contact with my former Beacon School classmates!!! Every time we are in Manila, we meet up. When we visit another state and a Beacon School classmate is there, we always meet up 🙂
It's not often, once every couple of years sometimes, but my closest friends are all from Beacon. They're the first ones I call when I'm upset.
The best Beacon School memory I have is the Secret Garden. Back then, that was the ~coolest~ place.
Follow more Beacon alumni stories at Alumni Speak.