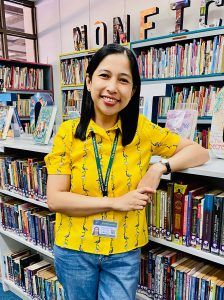 I have been teaching Filipino for 22 years. Before I joined Beacon, I was a college instructor. I learned about the school from a former colleague at St. Scholastica. 
I came here to Beacon because I wanted to explore professional opportunities that would impact the lives of younger learners and benefit me as an educator. As a Filipino teacher, I welcomed the challenge of teaching our country's language to cultivate exposure, increase appreciation, and strengthen the use of the Filipino language among non-native Filipino speakers. 
Our Filipino Language program aims to develop competent communication skills in speaking, reading, writing, and listening. These skills are developed in the focal units that celebrate Filipino culture, current events, literature, and history. With the appreciation and recognition of varied levels of learning, students are considered for an appropriate phase with intentional learning targets. Within each phase, each learner works towards demonstrating their readiness to progress to the next phase of learning. 
That Beacon is considered "small" compared to many other schools in Metro Manila appealed to me. It fostered a more personal and direct teaching and learning experience for students and teachers. 
Teachers may not always see or feel the impact on their learners, but they strive to make a difference in the lives of their students each day. As an educator, I am driven by the confidence that the seeds of knowledge and care planted will grow and eventually bloom.
– Ms. Cecille
Beacon School Filipino teacher since 2011
Check out more reviews here and in the Alumni Speak section.