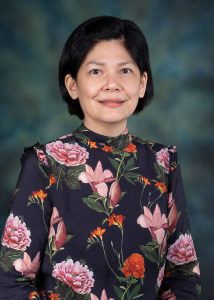 Beacon is home, having spent countless hours in its hallways and classrooms for the past 22 years.
Looking back to 2001, I immediately wanted to be part of such an ambitious journey after attending a meeting with the original incorporators. It was heartbreaking to let go of my lecturer job at UP Diliman. At the same time, I was excited to be part of The Beacon School project that was firmly rooted in Filipino culture and traditions, a truly international curriculum, as well as a catechism program to prepare students for the Sacraments of the Holy Eucharist and Confirmation.
I wanted to know what I ought to look for in a new school environment, and I will never forget what my mentor at the UP College of Education Reading Department told me when I asked her: "A school is only as good as its library." Building the Beacon library was one of the commitments of the founding parents of Beacon, one that they were able to fulfill, so that now, our school library boasts tens of thousands of titles and reference materials, truly a strong cornerstone the school is built upon.
I was also curious about whether I could use authentic literature in English class. I started out as a 2nd grade teacher, then I taught 4th grade. I became the science resource teacher in the PYP, then moved up to middle school. What is wonderful about the IB curriculum is that its framework readily allows teachers to incorporate a wide variety of teaching methodologies. To this day, I am able to incorporate literature into my teaching units.
My fondest memories include reading Harry Potter out loud; elementary school students in small reading groups, reading silently or out loud to each other, and growing up on stories written by Ray Bradbury, Neil Gaiman, Roald Dahl, Kate DiCamillo. In the MYP, my students and I read and cried over A Monster Calls, Tall Story, The Outsiders and even Shakespeare, literary works that inspire students to ask big and small questions, to make sense of the world, and to become better persons. My heart still skips a beat whenever I see students' noses buried in books or when they ask each other, "What are you reading?"
This coming school year will mark my 23rd year with Beacon, on a new campus. I hold on to the hope that the seeds the founding parents planted will continue to thrive and flourish, especially now that there are quite a number of educators who are active in the current school board."
– Trixie M.
Beacon School teacher since 2001
Check out more reviews and Alumni testimonials here.